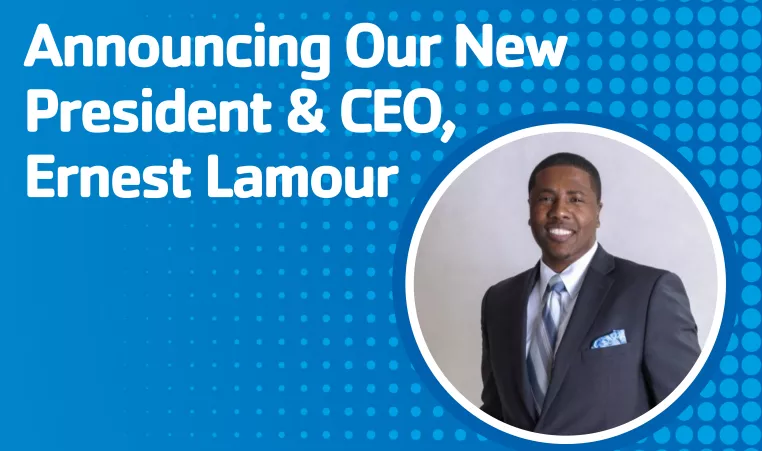 ERNEST LAMOUR APPOINTED PRESIDENT & CEO  OF THE YMCA OF GREATER ROCHESTER
For the first time in 24 years, the Y will have a new leader at the helm
ROCHESTER, NY – The YMCA of Greater Rochester's Board of Directors is honored to announce Ernest Lamour has been named President & CEO.
Lamour most recently served as President & CEO of the Ridgewood YMCA in New Jersey, and before that, as CEO of the Stamford YMCA in Connecticut and in various leadership roles with the Stamford Jewish Community Center. He was born in Port-Au-Prince, Haiti, and lived there the first eight years of his life. After moving to the States, Lamour spent most of his free time at the local YMCA in his adopted home of Stamford. It was there where his passion for sports and helping community took shape.
"This is a proud, and somewhat surreal, appointment for me," said Lamour. "All the time, I hear people ask if the YMCA can really change lives and help establish a safe and productive path forward for youth. To that I say undoubtedly yes; I am proof of it. It is an honor and privilege to be selected for this position. The YMCA of Greater Rochester has an amazing reputation throughout the Y movement, and I am dedicated to planting roots and bolstering our commitment to this great community."
Lamour's appointment is the culmination of a process that began in early 2022, when a Transition Committee was established to lead the nationwide search for the next President & CEO. The Committee worked tirelessly, in partnership with a YMCA of the USA (YUSA) consultant, to determine the skills necessary for the Y's next leader. The Transition Committee, chaired by Maureen Mulholland, who also serves as Chair of the YMCA of Greater Rochester Corporate Board of Directors, surveyed more than 60 key stakeholders to gain critical insight into what they were looking for in the Y's next leader. The information gathered not only shaped the vacancy announcement for this position, but also helped inform all stages of the process.
"We had an extraordinary pool of candidates for this position, and we are confident Ernie is the right person to guide our Association into the future," said Mulholland. "Throughout, Ernie demonstrated the executive acumen necessary to lead a multifaceted YMCA like ours. In addition, his commitment to advancing inclusive leadership and strengthening partnerships will be vital for the future of our YMCA."
This appointment was unanimously approved by our Board of Directors at a special board meeting this morning, and Lamour will officially assume the role of President & CEO on January 9, 2023. He will succeed George M. Romell who is retiring at the end of the year. For almost five decades, nearly half as President & CEO in Rochester, Romell has been a visionary leader locally and throughout the Y nationally.
"The Y's strength has always been the belief that the organization must adapt and change to reflect the communities we serve," said Romell. "The future of the YMCA of Greater Rochester is bright with Ernie at the helm, and I know he will receive the same level of support from staff, volunteers and the community that I enjoyed in order to allow this Association to reach new heights in service to others."
Lamour holds a Bachelor of Science degree in Recreation & Leisure Studies from Southern Connecticut State University and a Master of Science degree in Sport Management from West Virginia University. Among others, Lamour presently serves on the YUSA Diversity, Equity, Inclusion and Global Engagement Committee and Chairs the YMCA d'Haiti Coalition. With a proven track record of being a devoted community advocate, Lamour and his wife Tamar, along with their daughter, look forward to planting roots in the Rochester community.