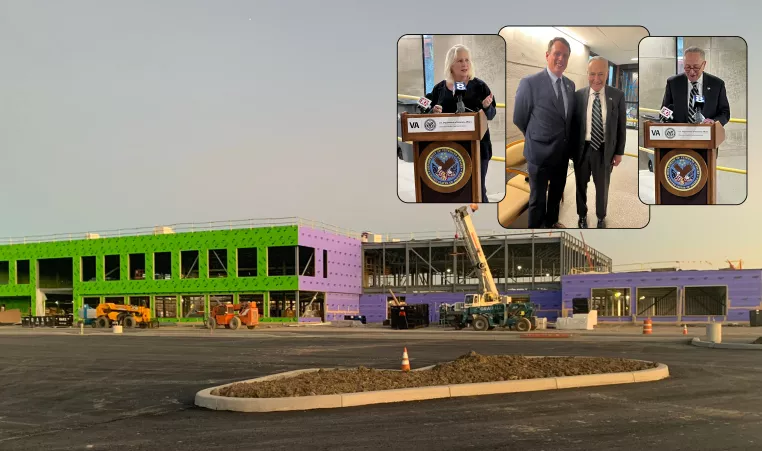 CANANDAIGUA, NY — New York State Senators Charles E. Schumer and Kirsten Gillibrand visited the Canandaigua Veterans Affairs Medical Center to discuss congressional funding for several community projects throughout Rochester and the Finger Lakes region. Schumer and Gillibrand secured more than $250 million of support to deliver to the Rochester-Finger Lakes Region in this project that spanned 20 years to complete.
The YMCA of Greater Rochester is one of the beneficiaries of the funding, receiving $1 million to help fund the construction of the new Sands Family YMCA in Canandaigua that will provide childcare, aging adult services, family services, health care, and more. The Sands Family YMCA is slated to open its doors in the fall of 2023.
"Senator Schumer and Senator Gillibrand have shown an extraordinary belief in the YMCA of Greater Rochester's ability to help make Canandaigua a better place to live, grow, and thrive. The new Sands Family YMCA will be a community resource for people of all ages and backgrounds," said Andrew Powers, Chief Development Officer, YMCA of Greater Rochester. "This support is not an investment in a building, but in the potential of all people in the region. With health and wellness services, childcare, day camp, services for older adults, and much more, everyone can find their place at the Y."
This is only some of the support that the Sands Family YMCA has received to date. The Sands Family Foundation granted the YMCA of Greater Rochester a historic $13.5 million gift, with $12 million intended for construction, which also includes a 2:1 match for fundraising purposes.
The facility is being constructed on 13-acres of land donated by Constellation Brands. The founder of Constellation Brands, Marvin Sands, also supported the Y and its mission over the years, specifically noting that he wanted his employees to have a place for recreational activities and childcare services.
"The vision for this new YMCA is one that lifts up the Canandaigua community that means so much to me and to my family," said Richard Sands, Chairman Sands Family Foundation. "It is clear that Senator Schumer and Senator Gillibrand share the same commitment to the Canandaigua community and the Greater Finger Lakes Region. I am proud to thank them for their efforts and to be part of this transformational project."
You can learn more about the project, how you can support it, and see photos of the progress.