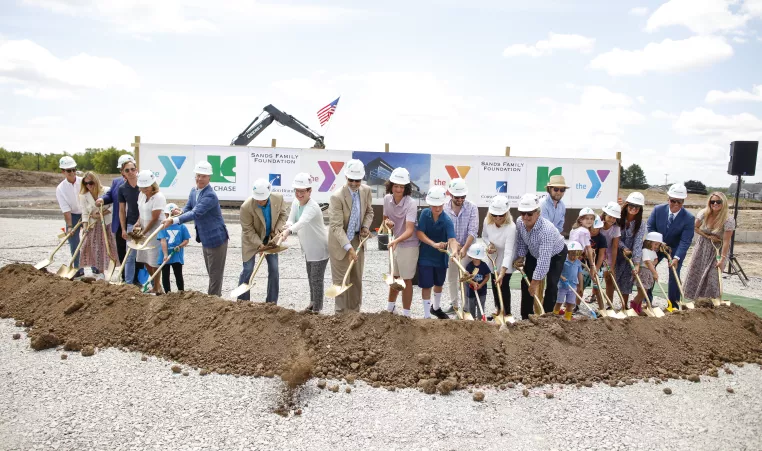 Canandaigua, NY – The YMCA of Greater Rochester is thrilled to celebrate the groundbreaking of the Sands Family YMCA. The new facility, with an anticipated opening in the fall of 2023, will serve the greater Canandaigua area and support the community in new and different ways than it has been able to in its 115-year history.
"The Canandaigua YMCA may be new to the YMCA of Greater Rochester family, but its legacy of service speaks for itself," said George Romell, President & CEO, YMCA of Greater Rochester. "With the Sands Family YMCA, we will have the ability to be the hub that brings the entire community together to strengthen minds, bodies and spirits."
The Sands Family YMCA, which is being built on 13 acres of land donated by Constellation Brands, will be nationally recognized for innovation and design. The 75,000-square-foot facility, once open, will include three studios for group exercise, multiple gymnasiums – one with turf – two pools with an indoor splash playground, a creator's space and teaching kitchen. In addition to spaces inside the facility, the Sands Family YMCA will allow space for a Day Camp outside, on-site medical services and a full-day licensed child care center.
None of this would be possible without the historic $13.5 million gift from the Sands Family Foundation. The gift represents $12 million for construction, with a generous 2:1 match for fundraising purposes, and up to $1.5 million in operational support.
"My father Marvin taught us from a very young age that we should do all that we can to support the community that we were raised in," said Richard Sands, Executive Vice Chairman of the Board of Directors, Constellation Brands. "Being able to give back, and impact the lives of so many, is an honor; I cannot wait to see this dream turn into a reality."
To ensure this dream becomes a reality, fundraising campaign plans include leveraging the 2:1 match from the Sands Family Foundation to raise $6 million in additional contributions to support the creation of the new facility. The YMCA is pleased to share that we have received a $500,000 gift from Bill Goodrich, CEO & Managing Partner of LeChase Construction.
"We believe strongly in the YMCA, and what this facility will do to impact this community," said Goodrich. "It is my hope that this gift will inspire others to support this project that is going to be a great asset to all."
In addition to philanthropic supporters like Goodrich, the YMCA continues to work with a developer to finalize the purchase of the current YMCA building and reimagine it for future use.
While change is on the horizon, both with a new location for the YMCA and to Main Street in Canandaigua, one thing remains the same: the YMCA's ability to connect people with the services and programs they need through youth development, healthy living, and social responsibility.
"The torch that our grandfather and grandmother lit still burns bright for Canandaigua," said Courtney Winslow, daughter of Richard Sands. "We are honored to continue their legacy and support the next generation in our community with this YMCA."
The overall construction costs for the project are more than $24 million. The YMCA is currently working with like-minded philanthropic leaders and the community at large to help create this transformational YMCA. Learn how you can be a part of this legacy by contacting Rachel Baker, our Capital Campaign Director, at rachel.baker@rochesterymca.org
Media Coverage