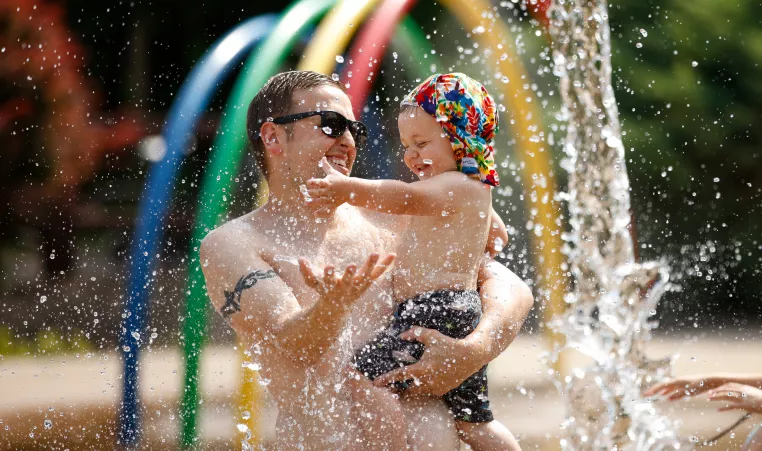 THREE REASONS WHY THE Y IS A GREAT RESOURCE FOR YOUR FAMILY THIS SUMMER
Summer is always the time where we like to recharge and reconnect with family and friends. And there is no better place to spend your summer than at the YMCA of Greater Rochester. Here are three reasons why the Y is the place to beat the heat!
OUTDOOR SWIM CENTERS (AND INDOOR POOLS!)
With your Passport Membership, you have access to all three of our Outdoor Swim Centers! Make a splash all summer long, spending time in the pool and at our splash pads. Our indoor pools are also open for members to come in outside of the heat for a cool down. Learn more about outdoor locations and hours each are open.
Y ON THE FLY @ PARCEL 5
We're proud to partner once again with the City of Rochester to bring FREE outdoor classes to Parcel 5 in downtown Rochester. Y on the Fly @ Parcel 5 is Tuesday and Thursday mornings and evenings throughout July and August, offering classes like yoga and Zumba – taught by some of your favorite Y instructors. Check out dates and times.
MEMBERSHIP TRAVELS WITH YOU – VIRTUALLY OR IN PERSON
Planning a getaway but want to keep up with your health and wellness journey? No problem! Your membership at the YMCA of Greater Rochester allows you access to other YMCAs across the country through the YMCA's Nationwide Membership program. Don't have time to make it into a YMCA? Head to our YouTube page for a video library of various classes and workouts!