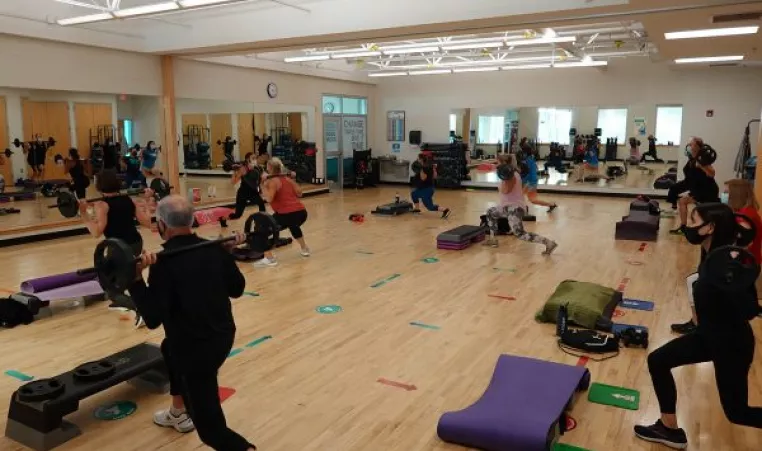 WHAT TO CONSIDER WHEN CHOOSING A GROUP EXERCISE CLASS
FIVE TIPS TO HELP FIND THE RIGHT CLASS FOR YOU
There are dozens of Group Exercise classes offered across the YMCA of Greater Rochester, all included as a member benefit. Classes are a great way to exercise, building strength and comradery. But with so many classes to choose from, it can be a little overwhelming to try and find which one to try out.
We've put together five helpful tips to consider to find the right class:
LEARN ABOUT WHAT EACH CLASS OFFERS
Classes are categorized by areas including Strength, Cardio, MindBody. Some classes have higher intensity levels than others. You can find descriptions for all classes on our website. If you have any questions about any of the classes, you can always ask any Y staff or your fellow members.
WHAT YOU WANT TO GET OUT OF IT
Are you looking to try something new? Take your fitness routine to the next level? Figuring out what you want out of the class is an important part of finding out which class to sign up for. If you're looking to increase flexibility, you can try one of our yoga classes. If you want to focus on overall workout and toning, try a BODYPUMP class.
YOUR COMFORT LEVEL AND INTERESTS
Along with learning what you want out of a class, you must also take into mind your comfort level. If this is your first time or you're just getting back into things, that's great! But remember that and be kind to yourself. Our instructors will offer varying degrees of difficulty throughout the class to help members feel comfortable and get a workout in at any level.
TRY SOMETHING NEW ONLINE FIRST
We get it, it may be intimidating to try out a class for the first time. Trying a class from the comfort of your home is a great way to learn. Some of our classes are available online on our YouTube page.
WORK WITH YOUR SCHEDULE
Finding classes that work with your schedule is important. Classes are offered on weekends, mornings, nights. We're always updating schedules to work best with our members. You can find the latest schedule for each YMCA of Greater Rochester location here.