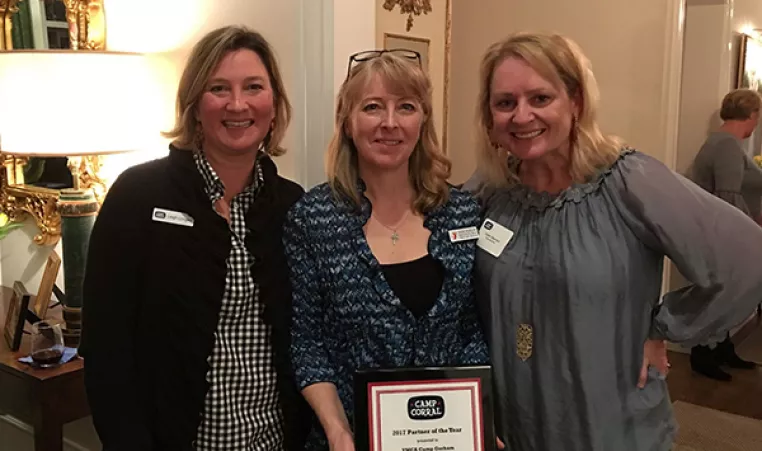 YMCA CAMP GORHAM EARNS CAMP CORRAL'S 2017 PARTNER OF THE YEAR AWARD
This March Camp Gorham was the recipient of Camp Corral's 2017 Partner of the Year Award. The selection process is based on program and operational excellence. It was an honor to have Camp Gorham's very own, Jackie Rudolph, accept the award on behalf of the camp. Camp Gorham is thrilled to continue to be a partner with Camp Corral and serve children of military families.
CAMP CORRAL
Since 2014, Camp Gorham has been one of only twenty Camp Corral partners in the nation.  Camp Corral, a 501 (c) (3) tax-exempt, non-profit corporation, is a free, one-of-a-kind summer camp for children of wounded, disabled or fallen military service members. Camp Corral is proudly sponsored by its founding sponsor, Golden Corral Corporation, and other generous donors.
This opportunity for children was started in response to the unprecedented levels of deployment and the increased reliance on Reserve and Guard members since October 2001.  To date, a total of over 2.1 million American men and women in uniform have deployed and of those Service members, approximately 44 percent are parents.  Camp Corral provides an opportunity for their children to experience overnight Camp at no cost to the family.
A 'WEEK OF A LIFETIME'
Camp Corral at Camp Gorham:  June 24 – June 29, 2018
Providing positive, recreational experiences in the outdoors helps foster resilience, Camp Corral at Camp Gorham has proven to be a 'week of a lifetime.' The week also encourages the campers to create friendships and bond with other kids who share similar family situations. Campers spend the week outdoors enjoying the many traditional overnight camp activities Camp Gorham has to offer: swimming, kayaking, canoeing, paddle boards, mountain biking, fishing, archery, high ropes, zip line, hiking, wilderness, and more.
LEARN MORE
If you are interested in learning more about, or applying for Camp Corral at Camp Gorham Click Here