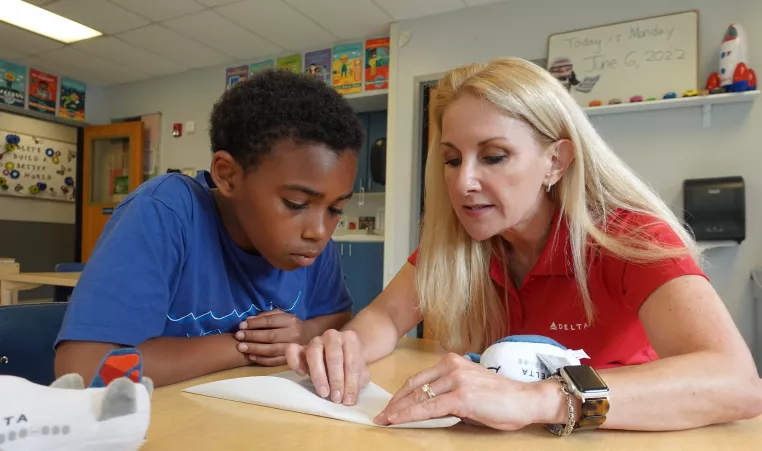 PARTNERSHIP WITH AIRLINE ALLOWS YMCA TO SERVE EVEN MORE
Rochester, NY – The YMCA is an essential part of the fabric of the community. And to be able to serve our community in the best way possible, we rely on partnerships – both with our members and organizations. One of the most impactful partnerships we have the YMCA of Greater Rochester is that of Delta Air Lines.
For more than a decade, Delta Air Lines has been a champion of the YMCA of Greater Rochester. In the past, they've supported through volunteerism and philanthropic support, getting involved in our Love-15 Tennis Program and in our out of school time programs helping with homework and reading with children.
"We would not be able to do what we do at the YMCA of Greater Rochester without partners like Delta," said Andrew Powers, Chief Development Officer, YMCA of Greater Rochester. "Their support is critical to helping kids in our area truly thrive.
Throughout Delta's years of support they have focused their philanthropy in the City of Rochester. As we reflect their impact there are so many examples of changed lives for both youth and their families. From family nights at Maplewood, to supporting sports like tennis for youth in Rochester, and homework help after school at Lewis Street, there are thousands of people right here in Rochester that have had their lives made better because of Delta.
"Delta Air Lines has a strong commitment to youth and giving back to the communities where we live, work and serve," said Tad Hutcheson, Managing Director – Community Engagement. "Working with nonprofits like the YMCA of Greater Rochester allows us to support the educational programs that are crucial to children."
We can't wait to see where our journey with Delta goes next as we work together to help our community our soar.