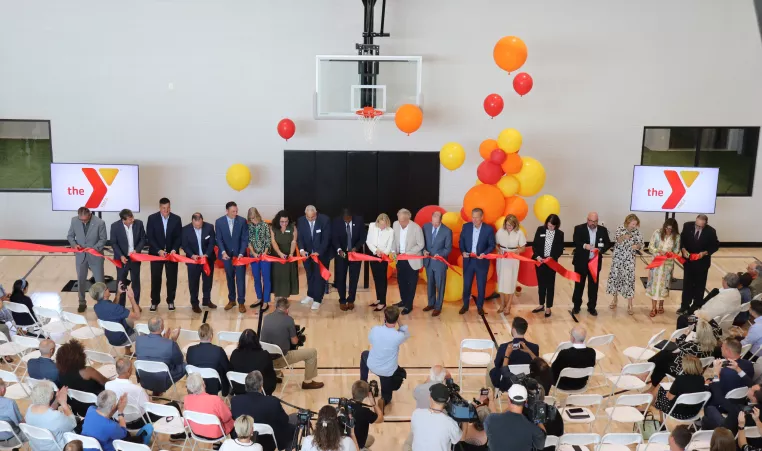 CANANDAIGUA, NY – The YMCA of Greater Rochester is proud to announce the grand opening of the Sands Family YMCA.
"This is an extremely proud day for all of us here at the YMCA of Greater Rochester," said Ernie Lamour, President & CEO, YMCA of Greater Rochester. "The impact the Sands Family YMCA will have goes beyond this incredible facility; it will be felt throughout the greater Canandaigua area. Our storied tradition of service – a century's worth – is expanding thanks to the generosity of the Sands Family Foundation. We are grateful to the Sands family and our community here that has fully embraced this transformational project. We are thrilled to be able to welcome our members home, to their new YMCA."
The Sands Family YMCA was made possible thanks to the tremendous outpouring of support from community partners and our members. In total, $21 million was raised to support the cost of this branch, with more than half of that coming from the incredible philanthropic support of the Sands Family Foundation – donating $12 million, the largest one-time gift in YMCA of Greater Rochester history.
"The Y played an integral part of my life growing up, and it all started with my parents and their admiration for the YMCA and its ability to provide for the community," said Richard Sands, former Chairman and CEO, Constellation Brands. "They both would have been extremely proud to see this world class facility here today; I'm honored to carry on their legacy and play a role in helping to ensure the Y remains a viable part of this community for many years to come."
The mission of the YMCA will be delivered to the greater Canandaigua community in ways like never before. Programming designed for all ages will be available for members: seniors will have dedicated space to combat social isolation, families will be able to come together in one place to be active and connected, and a new, full day licensed childcare center, the Mickey Sands Child Care Center, is serving children as young as six weeks through preschool.
"The Sands Family YMCA gives Canandaigua a true center of community – a place where all people are welcome and can get the support they need to reach their full potential," said Suzanne McCormick, President and CEO, YMCA of the USA. "I applaud the staff and volunteers at the YMCA of Greater Rochester for once again prioritizing access and innovation in their response to community needs. The Sands Family YMCA will transform lives and strengthen the Canandaigua community for generations to come."
In addition to a full day licensed childcare center, the Sands Family YMCA expands once again upon the partnership between the YMCA of Greater Rochester and the University of Rochester Medical Center, with the opening of the Mary Clark Thompson Family Practice, a primary care facility. "Being able to partner with the YMCA in this way is a fantastic opportunity for Thompson Health," said Michael F. Stapleton, Jr., FACHE, President and CEO, UR Medicine Thompson Health. "Our UR Medicine colleagues have had a great relationship with the YMCA in several Monroe County locations, and we are very grateful to be able to nurture a similar relationship now in Ontario County, where we have been collaborating with the Canandaigua YMCA for many years. The providers in our Mary Clark Thompson Family Practice are excited to be based within the YMCA, where there is a focus on health and wellness for people of all ages. It's a perfect fit, and we are confident this is a partnership which will benefit the community for years to come."
The 75,000-square foot facility features three studios for group exercise, two gymnasiums – including one with turf – two pools with an indoor splash playground, an innovation station for art and STEM programming, teaching kitchen, and dedicated play spaces for children and families.
The Sands Family YMCA would also not be possible without tremendous support from:
BRIAN F. PRINCE
"The YMCA is an incredible resource for so many people, especially when it comes to helping people of all ages be safe in and around the water," said Brian F. Prince. "I am proud to play a role in supporting the YMCA of Greater Rochester here at the Sands Family YMCA in strengthening and growing its mission."
CANANDAIGUA NATIONAL BANK & TRUST
"We are so proud to be part of this investment in the Canandaigua community," said Frank Hamlin III, President & CEO, Canandaigua National Bank & Trust. "It's a tribute to the people who first saw a need for a YMCA and those today who believe it will help ensure our future."
LECHASE GROUP
"Congratulations to the YMCA on this impressive new facility," said Bill Goodrich, CEO & Managing Partner, LeChase Construction. "We're proud of our work on local YMCA branches over the years and honored to have been the design-builder on this project that will serve the Canandaigua community for years to come."
NEW YORK STATE
"New York State is proud to support this amazing new facility," said Hope Knight, CEO and Commissioner, Empire State Development President, CEO and Commissioner Hope Knight. "This state-of-the art YMCA vastly expands the health and wellness options available to people of all ages in the Canandaigua community and gives members every opportunity to achieve their fitness goals."
NEW YORK STATE SENATOR PAM HELMING (R-54TH DISTRICT)
"Today, we launch a new era for the YMCA in Canandaigua, with even more opportunities for health and wellness, childcare and medical care, fitness and sports, play and creativity, and through all of this, connection to each other and to the Greater Canandaigua community. Importantly, the Sands Family YMCA is also extending its impact by opening up more childcare spots to help local families and employers and increasing access to vital healthcare services through the on-site family health practice with F.F. Thompson Hospital. The Y is a critical partner in our efforts to serve our local businesses and workforce, attract new investment and talent to our region, nurture healthy children and families, and support our retirees and seniors. Thank you to Richard and Rob Sands and the Sands family for their transformational gift and enduring commitment to our area. New York State made an important investment in this project and I was proud to advocate for that. I know it is an investment that will provide returns for today, tomorrow, and generations to come."
DAVID RIEDMAN (CHAIR, YMCA OF GREATER ROCHESTER CORPORATE BOARD OF DIRECTORS)
"We're all supporting this project because of the same reason – we believe in the power of the YMCA. On behalf of the Riedman Foundation, it is an honor to support the Sands Family YMCA, and all that the YMCA of Greater Rochester does. None of it would not be possible without the support of so many incredible donors and partners. I know I also speak for my fellow board members across the YMCA of Greater Rochester when I say it is an honor to play a role in delivering the YMCA's mission."
U.S. SENATOR KIRSTEN GILLIBRAND (D-NY)
"YMCAs serve as anchors of our communities, providing a safe space for children, teens, and older adults to receive programming and support services. The Sands Family YMCA has been instrumental in providing vital health and wellness resources to community members of all ages. I was proud to secure funding for this project, and I look forward to this new facility serving residents of Canandaigua and beyond. I will keep fighting to ensure all New York families have healthy, thriving communities."
U.S. SENATOR CHUCK SCHUMER (D-NY)
"The Sands Family YMCA will be a one-stop shop for the health and community needs of Canandaigua residents. I was proud to deliver funding for the project because its daycare services, recreation, and services for aging adults will provide countless benefits to all ages. As an anchor to the surrounding region, I know the Sands Family YMCA will lead to a stronger, healthier community across Canandaigua."
MEDIA COVERAGE