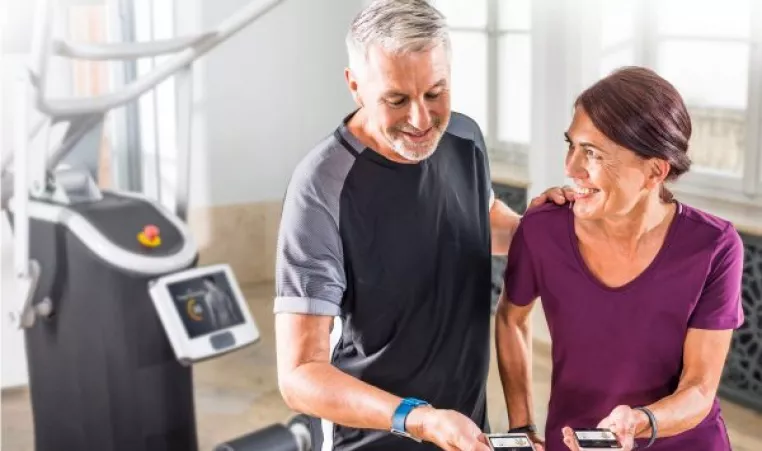 EGYM – EVERYTHING YOU NEED TO KNOW
The Y has a great fitness tool that takes the guesswork out of strength training. eGym combines state-of-the-art technology and connects you to electronic equipment that adjusts to you while helping you keep a routine, and making workouts fun.
eGym currently be found at the Schottland Family YMCA, Westside Family YMCA, Eastside Family YMCA and The YMCA at Innovation Square.
Sign up for a Wellness Consultation to get started with eGym.
eGym is a FREE member benefit for all YMCA members!
HOW IT WORKS
First, you will need to schedule a Wellness Consultation.
During your Wellness Consultation an eGym coach will give you your free wristband and walk you though a strength assessment to find your optimal resistance setting. Your coach will also set the machine to your proper range of motion. After this initial time through with a coach you are good to go.
Next time you show up, tap your wristband on the marked area, and machines will automatically set the weight level and range of motion for you.
The smart equipment will adapt and progress you through a workout with an interactive screen. And all of your workouts are logged in an app without any work needed.
FEATURES OF EGYM
The interactive video screen on every machine guides you to move at the right pace with the right form. eGym can help you get a complete workout every time, without worrying about counting reps or keeping a workout journal.
The machines automatically track your workout and send it to your app. To get started on the app download the YMCA of Greater Rochester's New App and set your home branch to one with eGym. Then you will see an eGym icon that will take you to all of your eGym information.
NEW TAILORED PROGRAMS
All eGym users now have access to eGym+ features for free (previously additional cost). This upgrade will allow you to choose an appropriate intensity and one of eight tailored programs specific to your goals.
If you are already an eGym user these features may need to be unlocked for you, stop by the Wellness Desk and one of our trained eGYM coaches can help get you started.
Tailored programs include:
Weight Loss- decrease body weight
Muscle Building- improve bone density and build muscle
Athletic- increase power and decrease risk of fall
General Fitness- enhance functional mobility
Rehab Fit- low intensity program designed to assist with injury recovery
Body Toning- reduce body fat and increase muscle definition
Metabolic Fit- focus on muscle endurance
Immunity Boost- simple and progressive reentry to exercise after time off
TRAINING METHODS
In addition to the 8 tailored programs available there are also 4 different training methods that may be found within your program. These training methods will alter the feel of the workout by changing the speed, weight load, and number of repetitions. This provides variation in your workout all while maintaining the same overall focus.
Training methods include:
Regular – One weight, classic controlled repetition tempo/speed
Negative – 2-weights, Easier on the 1st half of the rep, heavier on the 2nd half (or return of rep)
Adaptive (NEW) – Decreases weight mid-set as it senses your muscles getting tired
Explonic (NEW) – Meant for rapid, explosive movements
 EASY TO TRACK
The eGym circuit takes the guesswork out of your workout routine. Everything is already set for you when you arrive at the Wellness Center.
Your progress is easily tracked, so that you can see in real time how you have improve. There are even options to turn your workouts into a friendly competition with your workout partners by winning points for working out.
The app also shows if your muscle groups are imbalanced, and gives you an estimated biological age based on your strength.
EGYM CIRCUIT EQUIPMENT
eGym has a variety of equipment included in the circuit:
Leg Press
Shoulder Press
Leg Extension
Back Extension
Leg Curl
Chest Press
Triceps Press
Row
Bicep Curl
Ab crunch