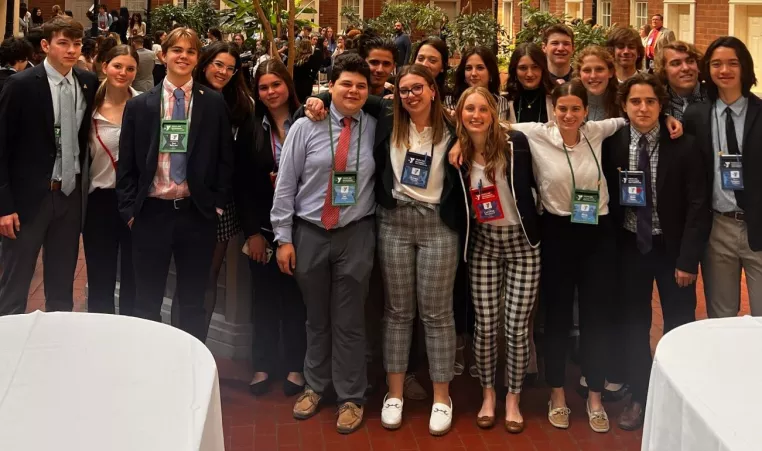 YMCA students from Webster Thomas, Penfield, McQuaid Jesuit, Our Lady of Mercy, and Aquinas Institute attended the Alliance of New York State YMCAs' Youth and Government (YAG) Summit this past weekend in Albany. The 21 students were able to be a part of a weekend of model government by taking over the NYS Senate and Assembly while visiting the State Capitol.
Zach Smith, Teen Program Director, attended the conference with the students and was enamored with how they performed in Albany.
"Our District 1 Youth and Government delegates represented our community in an incredible way," Smith said. "I've never been so honored to advise a group of young people as they engage in civic education so passionately."

There were many highlights from the event, which saw the group successfully participating in the Legislative and Judicial Programs. Some of the standout moments include:
Seven students were involved in the Legislative Program, which led to  three bills being written. All three passed in Assembly Chambers, with two signed by the youth governor. One of the bills won "Best Bill in Assembly Freedom."
14 of the students participated in the Judicial Program with three of the Attorney Teams winning cases, with a fourth team tying. The Judicial Team of Alex Hill and Rosalie Steinhour won "Best Brief."


 
 

Four students will be representing New York State at the YAG Conference on National Affairs July 1-6. They are: Judicial Students Alex Hill, Katia Moldoch and Chase Mauro, and Legislative Student Will Rappold.
The conference is offered to high school students twice throughout the year. Smith is excited to see what's ahead for the group, as he hopes to bring even more students to the YAG Conference in March 2024. If you or someone you know is interested in joining the YMCA of Greater Rochester's Youth and Government program, please contact Zach.Smith@rochesterymca.org. For more information about future YAG Conferences, visit ymcayag.org/ny.