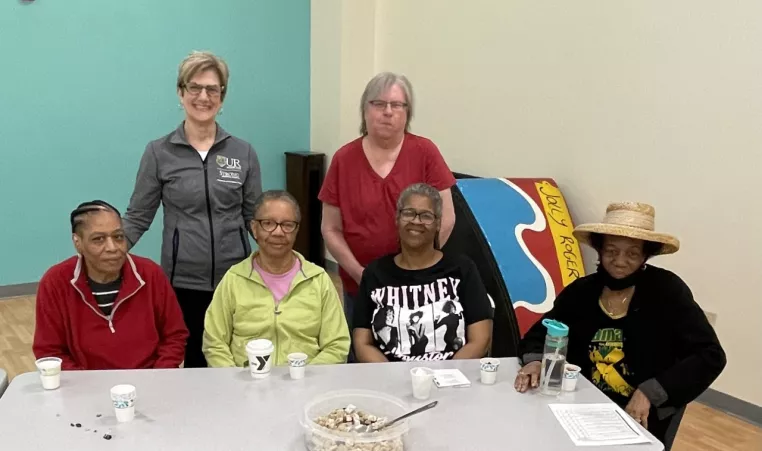 ROCHESTER, NY – Karen Blank's love of the YMCA of Greater Rochester runs deep. She spent more than two decades working in all aspects of health and wellbeing, playing leading roles in some of the Y's initiatives during that time.  The roles include group exercise instructor, personal trainer, helping with grant writing, leadership development training, family programs and more.
In 2018, she decided it was time to take on a new role – student.
"It was something I wanted to check off my bucket list," said Blank. "To learn in your 50s and 60s when everyone is slowing down, I'm piling it on, and I feel relevant. It makes all the work we did, and that I hope to still do, so perfect."
As her time as a student at SUNY Brockport was coming to an end, Blank needed to fulfill her requirement of an internship. She landed one with the University of Rochester Medical Center, working specifically to learn more about a partnership she was very familiar with.
"The Y and University of Rochester Medical Center teaming up was truly a public health explosion," said Blank. "URMC is one of the nation's leading academic medical centers, and the YMCA is one of the largest nonprofits in our community. The two are the best of both worlds – community health and medical – to serve people."
A partnership that began in 2017, the Y and URMC have been working together to make the greater Rochester area a healthier place through innovative programs and combined work. The purpose of Blank's internship was to look deeper into the partnership through a needs assessment, digging into the scope and focus of the partnership between the YMCA and URMC, specifically in the City of Rochester.
"Karen took great care to represent both URMC and the YMCA of Greater Rochester in the most professional light as she met with numerous leaders from other organizations," said Vicky Hines, Chief Operating Officer, University of Rochester Medical Faculty Group and Vice President, University of Rochester Medical Center. "Her belief in our partnership likely got others to believe in its value as well."
Blank looked at national, regional and local data, as well as similar partnerships. She worked with YMCA locations within the City of Rochester (Maplewood Family YMCA, Thurston Road YMCA Neighborhood Center, Lewis Street Neighborhood Center), and got to know the members and staff. She learned of social determinates of health. In the 19th Ward, for example, Blank spoke with leaders and Y members about what they were seeing. Common themes were food access, transportation and the loss of their neighborhood pharmacy.
She put together a detailed program proposal, supported by data and her analysis, outlining how the two organizations can be better community health navigators, connecting individuals with health and social services, while also providing education and support. In her findings, she noted that by building equity, trust and service to often overlooked communities, the Y and URMC can bring about impactful change.
"Having a professional like Karen, who understands both the Y and URMC, look critically at our partnership and collective outcomes was invaluable," said Pam Cowan, Chief Experience Officer, YMCA of Greater Rochester. "Collectively, we aim to increase community access to health and wellbeing education and programming. We have passionate teams, all dedicated to improving the social determinants of health. Having someone so invested in our joint success provide this critical assessment will help us best serve the needs of our community as we navigate forward." 
"By improving the health of each community in the urban services area, the partnership can begin to create systemic change in reducing health disparities, listen and learn what is important to members and residents, and provide health and wellbeing for all," said Blank. "These two powerful organizations can begin to choose interventions that promote community health and work more strategically to create environments that support health equity for all."
Blank graduated in May 2023 with her bachelor's degree in public health, as well as Brockport's President's Citation Award. The award is given annually to a graduating senior who demonstrates not only scholastic merit, but strong extra curriculars and makes significant contributions to the school and community.
With her degree and future opportunities ahead of her, Blank reflects on this experience with humility and hope.
"I wanted to give back to an organization that gave so much to me," said Blank. "I feel privileged to be able to have done this work and be a part of these two amazing organizations that do so much."