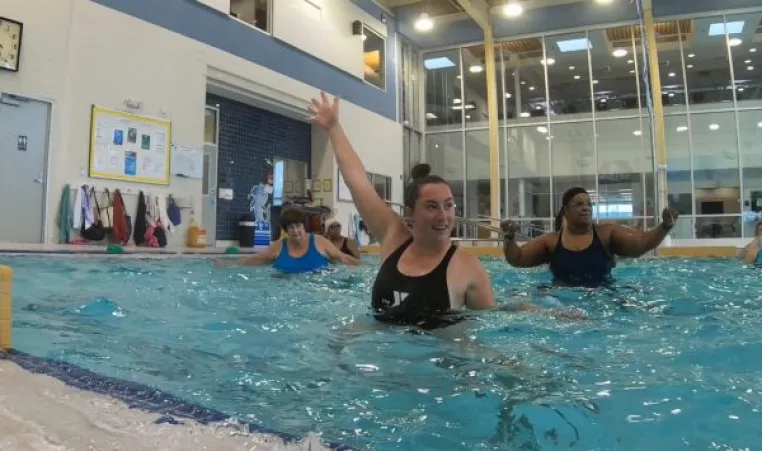 TRY IT: AQUA ZUMBA®
YMCA STAFF SHARES EXPERIENCE TRYING GROUP EXERCISE CLASSES FOR THE FIRST TIME
Carly here again. And I am exhausted in the best way.
Why?
I took my first Aqua Zumba®  class. For me, it was like someone said, "let's take a hard class and make it harder." But it was still one of the most fun classes I've taken so far!
I met Amy, a member who has taken this class for years. I asked what advice she'd give for my first class and she said, "you don't need any experience, just keep moving."
Shelly teaches this class at the Westside Family Branch. I give her true credit for teaching on the warm pool deck. Amy told me before class that Shelly is easy to follow; that all I need to do was "just follow the signals." Amy was right – Shelly's cues are clear and make it easy to follow along.
I was so pleased to see how welcoming members are. In a class of mostly retirees, I stick out a bit. But they smiled at me and say "hi," and they were glad to have me in class for my first time.
There are several times throughout the class where my arms and legs are just not coordinating as I try to follow Shelly, but it's okay. Members told me before class that if I get lost, "just keep moving." If you're moving, you're getting your workout.
In a time where we have had to be so cautious of our social interactions, it's refreshing to be in a welcoming space, sharing a positive experience. There's no talking about current events – just a group of people in the pool, splashing around, singing along to the songs we recognize, getting our endorphins flowing (pun not intended but I'm glad it works).
It's funny to think back to Amy's advice before class. Maybe I'm feeling soft, but it reminds me of a popular animated fish who reminds us that "when life gets you down, you know what you gotta do? Just keep swimming."
LOOKING FOR A RECAP ON OTHER CLASSES? CHECK OUT ON OF CARLY'S OTHER TRY IT VIDEOS
Try It: SilverSneakers® Classic