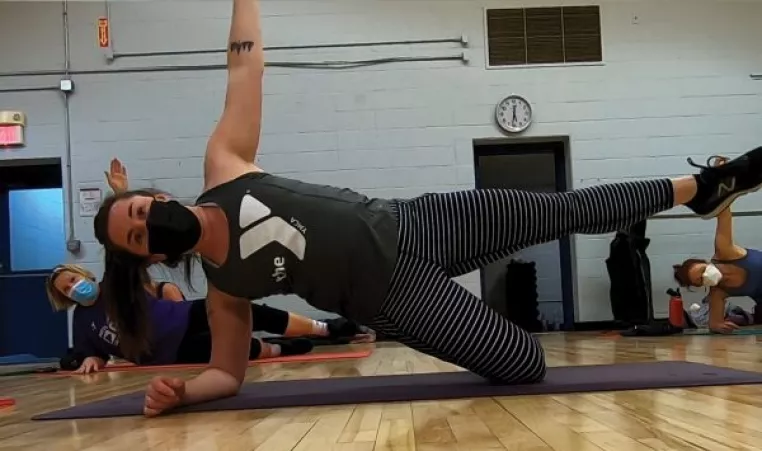 TRY IT: LES MILLS CORE
YMCA STAFF SHARES EXPERIENCE TRYING GROUP EXERCISE CLASSES FOR THE FIRST TIME
Back again for another class! Personally, I'm all for a 30-minute workout, so naturally I was really looking forward to Les Mills Core.
First, I love taking a class with Andrea (the instructor) – she is so kind and encouraging throughout the entire class. Andrea genuinely takes an interest in each individual member, and it makes the experience so special. I've taken other classes with her and see regular members dedicated to taking her classes.
When I think of "core" workouts, I tend to think of abs first, but core is so much more than that. The warm up does start with abs, but the class goes into IT bands (those muscles on our sides that I tend to forget about), back muscles, and even shoulders. I appreciate how we will do moves slowly first to get the feel for it, then go into quicker repetitions.
The commando crawl was the most challenging for me…not necessarily for strength's sake, but for coordination's sake. In a plank position with forearms flat on the ground and parallel to each other, move up the back arm with the opposite foot to crawl forward.
The resistance bands were a fun challenge too! The stepping forward and back while crossing the band from under my feet made me feel like a penguin, but the work in my muscles made it worth it. Those and the side steps take lots of control – little movements make a big difference!
I highly recommend Les Mills Core for its efficiency – 10/10 starts!
WHAT I'VE LEARNED FROM TRY IT
This whole process has been about getting out of my own personal comfort zone and to help others feel comfortable trying something new for the first time. Some classes I was purely excited to try (Aqua Fit, Aqua Yoga, Feeling Fit) and others I was nervous about (a 6 am BODYFLOW, Step-Cardio, TRX). For the classes I was nervous to try, I found these things helpful:
Introduce myself to the instructor and other members. Ask them what to expect or how long they have been teaching or taking the class. Bonding with other people helped me feel more relaxed and I could stop worrying about looking like an absolute fool in front of strangers – because suddenly they weren't strangers anymore!
Go with a friend. I honestly don't think I would have made it to a 6 am class if I hadn't been meeting a few friends (and we had plans to go to breakfast after, that helped). The accountability, comradery, and encouragement made it possible to wake up that early.
Set an intention of why you're doing it. When reps get hard, I think of the names of mountains I want to hike (sometimes to the beat of the music). Naming them and visualizing them helps me work through the hard parts. Before I know it, I've done it!
CHECK OUT ALL OF CARLY'S OTHER TRY IT VIDEOS
Try It: SilverSneakers® Classic