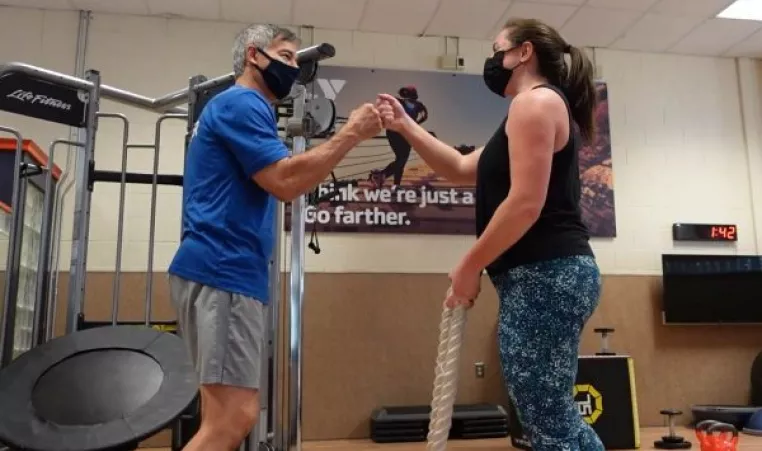 TRY IT: PERSONAL TRAINING
YMCA STAFF SHARES EXPERIENCE TRYING GROUP EXERCISE CLASSES FOR THE FIRST TIME
Carly here again! For my next installment of our "Try It" series, I decided to try something more than a class. Personal Training always seemed a little out of reach for me – like it was for someone who had a very specific goal they wanted to achieve. I was intrigued to see what it would be like for an "Average Jane" like me.
Barry, a personal trainer at the Bay View Family YMCA, is so personable. I don't think you become a Personal Trainer if you aren't "a people person." Barry started with me like all trainers at the Y do with clients – with an assessment. The assessment is to get to know where you are before getting into a workout routine – they'll ask about your likes and dislikes when it comes to exercising, what your goals are, if you have any limitations or concerns that they should be aware of, all that background information.
Personally, my goal is to have the strength and stamina to hike Adirondack High Peaks!
So we got started with a "dynamic warm-up." These moves got my blood flowing and ready for the challenges Barry had planned for me. I thought I would feel silly asking what terms meant, but Barry is the expert, not me. I asked all my questions!
Barry balanced our session with "push" and "pull" moves, working muscles in different directions and different ways. It didn't feel like I was using the same muscles repeatedly and getting fatigued. It was balanced and had plenty of variety.
Some moves caught me by surprise, but I was even more surprised at my own ability to do them (particularly the crunches in the Captain's Chair over the stacked foam rollers). Barry doesn't over complicate the moves – they are simple enough that someone new at Personal Training (like me) can do them.
All in all, Personal Training is a great experience. I highly recommend!
LOOKING FOR A RECAP ON GROUP EXERCISE CLASSES? CHECK OUT ON OF CARLY'S OTHER TRY IT VIDEOS
Try It: SilverSneakers® Classic