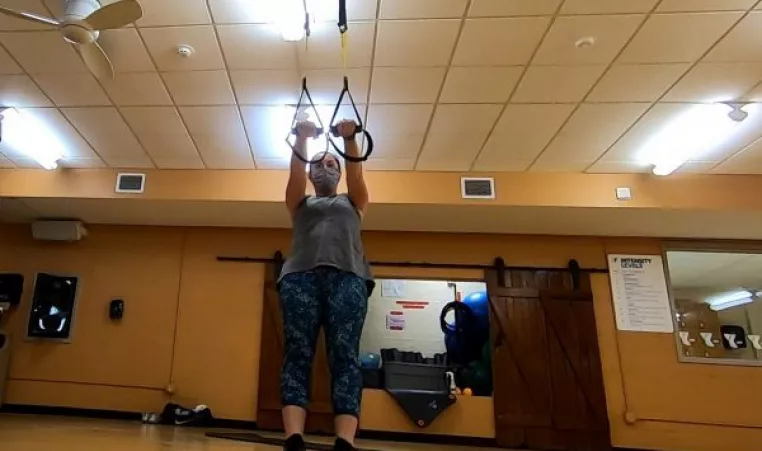 TRY IT: TRX® CIRCUIT
YMCA STAFF SHARES EXPERIENCE TRYING GROUP EXERCISE CLASSES FOR THE FIRST TIME
It's Carly again! I always thought TRX® Circuit was for "those really intense people."
I've said it before, but I'll say it again – I LOVE how Y classes have such a range of people. There is no "cookie cutter" Y person; everyone is coming from different backgrounds and abilities. There is no shame for going light on weights or reps, and the instructors are there to cheer you on to push yourself.
Tom C. may be the most excited instructor I've ever taken class with! He was so encouraging throughout the whole class. He makes it look easy – but don't be fooled, it's a challenge. A lot of moves were relatively familiar (squats, planks, crunches), but just altered for the class. I had to test and trust my balance frequently. It was equal parts physically and mentally exhausting.
I was most surprised by the moves with my feet in the straps. I'm not too steady, but I made it through! The momentum of the straps feels strange at first, but your muscles will quickly adjust.
I still think TRX® Circuit is for "those really intense people," but now I think I'll just become one of those people ? I'd definitely do this class again!
LOOKING FOR A RECAP ON OTHER CLASSES? CHECK OUT ON OF CARLY'S OTHER TRY IT VIDEOS
Try It: SilverSneakers® Classic