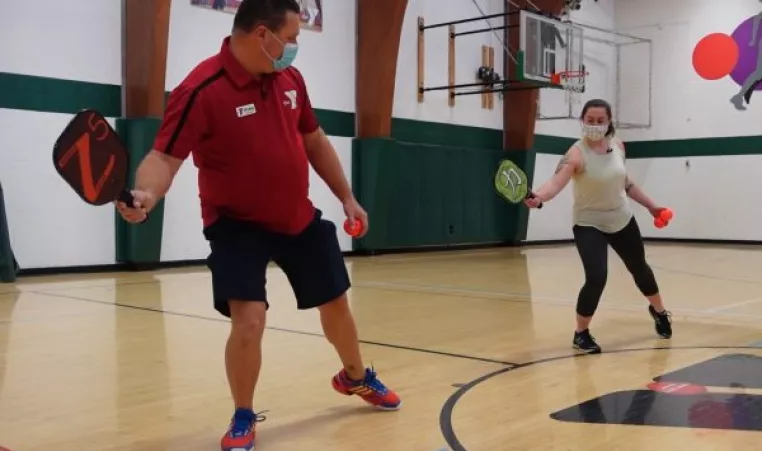 TRY IT: PICKLEBALL
YMCA STAFF SHARES EXPERIENCE TRYING PROGRAMS FOR THE FIRST TIME
Carly here again. If you're like me, you've definitely heard of the famous game at the YMCA – pickleball.  I've seen it played during my six years of working at the Y, but I had never actually learned how to play pickleball.
All I knew was that the people who play absolutely love it! Is it worth the hype? I had to find out. Thankfully, we have a fantastic pickleball teacher at our Bay View Family YMCA, Jeff Lathrop!
Jeff describes pickleball as a hybrid of ping-pong, some say badminton or racquetball and of course, tennis. The reason why it's so popular is because people of all ages can play.
First, Jeff taught me some of the basic rules of the game:
Whoever scores 11 points first, wins the game (usually takes about 15 minutes)
Played in doubles
Pickleball courts in our gyms are outlined
The rectangle by the net is called the "kitchen"
Then he taught me some of the basic skills:
Ball control (backhand and forehand)
"Dink" – the kind of shot to just lobby the ball back and forth
Serving
Serving sequence (who serves when and how many times, when to switch sides)
Pickleball is a quick sport to learn and gives you the opportunity to get to know other members. I've seen firsthand the age range of players; it is truly and inclusive sport.
If you've never played before and wanted to give it a try, we provide all the equipment you need. Check out branch schedules on our website to find Open Pickleball times. We'd love to see you there!
If you want to read more about the rules of pickleball, check out this site.
CHECK OUT ALL OF CARLY'S OTHER TRY IT VIDEOS
Try It: SilverSneakers® Classic