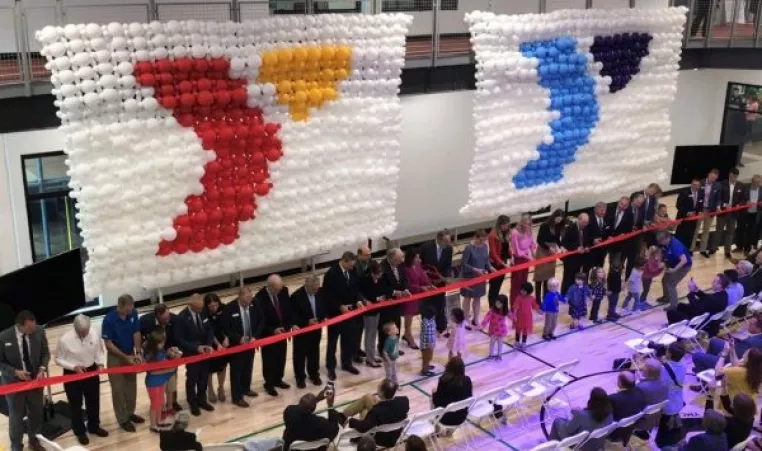 STATE-OF-THE-ART FACILITY OFFERS NEW SERVICES, AMENITIES FOR ALL
Rochester, N.Y. –  On Monday, September 30, the YMCA of Greater Rochester proudly opened the Schottland Family Branch, a facility that has been years in the making.
"The future is now. Opening the Schottland Family Branch has been a long time coming for the YMCA of Greater Rochester," said George Romell, CEO & President of the YMCA of Greater Rochester. "We have been partners in the Pittsford community for nearly five decades and with this magnificent building, we can now serve our community better: aiding more families along their health journey, providing a safe place for kids to create memories and being a hub for seniors to find vital socialization."
The 140,000-square-foot, state-of-the-art facility offers a vast array of programs and services enabling the Y to achieve our mission of developing youth, instilling healthy lifestyle behaviors and acting socially responsible for all members of our community.
This project saw an exceptional outpouring of philanthropic support from community partners, and the community the Y serves. More than $18.4 million was raised for the Schottland Family Branch through supporters; including the largest single capital donation in the Association's history – a $3.5 million gift from Peter and Susan Schottland.
"Its mission of diversity and inclusion ignited our interest in philanthropically supporting the YMCA," said Peter and Susan. "Our contribution is a way to support an organization that means so much to our family and aligns with our belief in creating places where everyone is included."
As the community grows and changes, so does the YMCA of Greater Rochester. At the Schottland Family Branch, staff is laser focused on offering members a haven to enhance their physical and social health.
"The Schottland Family Branch will be a place where the entire community comes together and all people, regardless of their circumstances, have the opportunity to learn, grow and thrive," said Kevin Washington, President & CEO of YMCA of the USA. "I commend George and the volunteers and staff of the YMCA of Greater Rochester for their dedication to this project and congratulate them for making their vision for a new facility in Pittsford a reality."
The YMCA of Greater Rochester is also leading the way when it comes to community integrated health. The partnership between the Y and UR Medicine grows with the opening of the Schottland Family YMCA, with two UR Medicine practices inside the branch.
"The University of Rochester is dedicated to improving the health of the communities we serve, providing high-quality care as close to home as possible," said Mark B. Taubman, M.D., CEO of University of Rochester Medical Center. "Through our collaboration with the YMCA, UR Medicine is pleased to deliver clinical care and preventive services in locations across the community visited by thousands of families on a daily or weekly basis. The Schottland branch is a convenient new location for patients served by the Highland Women's Health practice, as well as Rochester Internal Medicine Associates in our primary care network."
This branch would not be possible without the generous support of major donors such as:
"We are delighted to have contributed to this incredible facility that so clearly supports the core mission of the YMCA. This facility will allow for expanded and diverse programming for individuals, families, children and seniors that will have long lasting benefits for our entire community."

Jurij and Marie Kushner

"We never really considered our contribution as a donation but rather an investment in the YMCA's future and in Rochester's future. The payoff will be immeasurable."
Joseph & Irene Skalny Charitable Trust

"The Skalny family is honored to have the opportunity to participate in the YMCA's grand new vision. Joseph and Irene Skalny had a long history of giving and a great love of children. Today the Foundation they endowed recognizes their vision of caring for the next generation thru the Skalny Children's Center."
"The YMCA presents so many opportunities for our young people and provides so many services to families in our area that it can truly be called the center of our community. I was proud to deliver $1,150,000 in capital funding for this project and I'm excited to see its doors open and witness its positive impact.  Congratulations to George Romell and his team at the Greater Rochester YMCA for another job well done."
"The Schottland Family Branch will help strengthen communities throughout the region," said Dan Burns, M&T Bank Regional President. "It will expand services that improve the lives of families, children and individuals. We were excited to support the project because we recognize the impact it will have for our neighbors and its potential to create a healthier, more vibrant Rochester."
The Riedman Foundation

"The Riedman Foundation is proud to support the YMCA and the services and programs it provides to all corners of our community.  The Schottland Family Branch is a true testament to the talent and dedication of the members of the YMCA team.  Not only is the new branch a wonderful addition to the Town of Pittsford, it, along with other suburban branches, is vital to ensuring the YMCA of Greater Rochester can continue its mission in serving our community in a sustainable manner."

Finger Lakes Region Economic Development

Finger Lakes Regional Economic Development Council Co-Chairs, Monroe Community College President Anne Kress and Greater Rochester Chamber of Commerce President and CEO Bob Duffy said, "This new, beautiful YMCA facility is an incredible community asset. This type of reinvigorating investment serves as a wonderful way to keep moving the Finger Lakes region forward."
MEDIA COVERAGE: